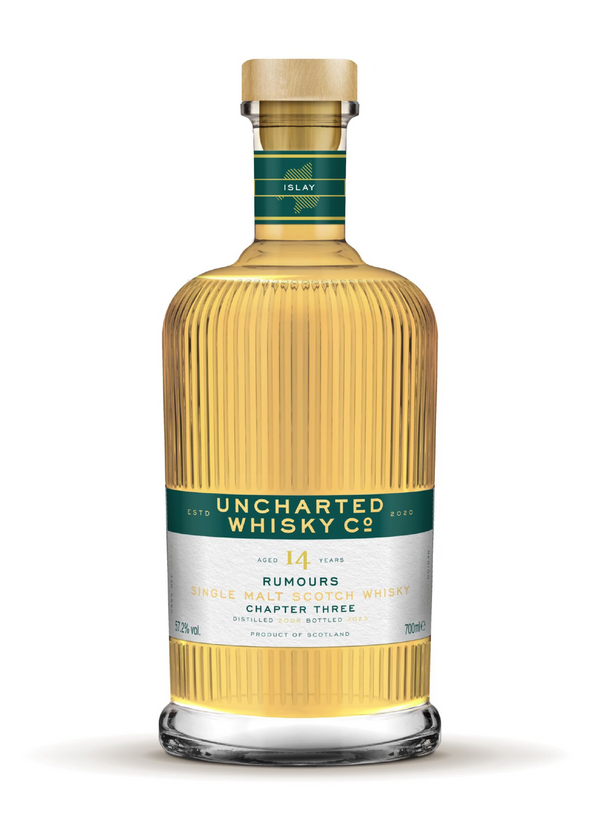 Uncharted Whisky Co. - Rumours Chapter 3: Islay Single Malt 14
At first rich and mellow seaside smoke and smoky bacon ascend out the glass. M

ore delicate lemon drizzle cake and oak emerge a little later on.

 
Lemon oil coats the mouth mingling beautifully with the smoke mellowed by the years. Fresh baking aromatics accompany crisp fragrances. A touch of water brings freshly cracker pepper to life.
In contrast to many whiskies, the finish exposes a rich earthiness that builds with time rather than fades. Long and smoky with touches of the pepper and savoury baking.
Rumours Chapter 3: 14 Year Old Islay Single Malt
The grand finale of their acclaimed Rumours range, Rumours Chapter 3 is another spectacular single cask release featuring one of Islay's biggest and peatiest distilleries...
Chapter 1 was a delightful 15 year old (unnamed) Ardbeg, followed by Chapter 2, an unbelievably delicious and delicate 30 year old (unnamed) Bowmore. Can you guess what story Chapter 3 might tell?
As always, it's a mystery Islay distillery... very limited, very rare. But we can give you some clues. It's 14 years old, single cask and bottled at cask strength (58.2%). A smoky, citrussy delight. A quintessential Islay single malt, distilled in the beautiful hollow by a broad bay.

Distillery: Undisclosed Islay

Age: 14

Region: Islay

Finish: Ex Bourbon

ABV: 58.2%

Bottled: Natural colour and without chill filtration

Bottle Size: 700 ml