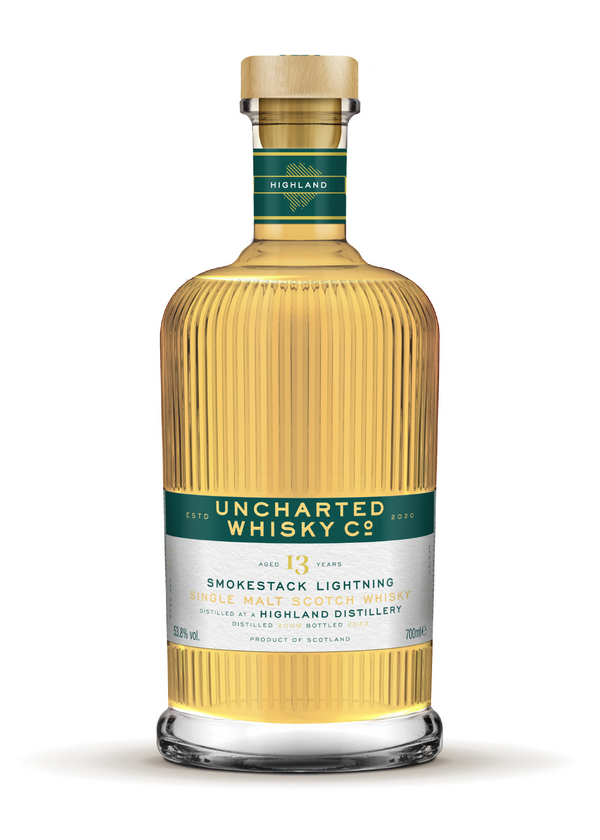 Uncharted Whisky Co. - Smokestack Lightning: 13 Year Old Peated Highland Malt
Smoke bellows out of the glass- super sweet and earthy. Smouldering barbecued marshmallow, and new leather follow.
A coal scuttle, a blast of sweetness mingle with a touch of delicate wine. This fades to an apple crumble warmth layered in with the ubiquitous smoke. Feinty leathers rise toward the finish.
Long and mellow, the smoke departs and granny's biscuit tin emerges from the cupboard alongside a touch of citrus

.

Smokestack Lightning: 13 Year Old Peated Highland Malt
Whoa, smokestack lightnin'
Shinin' just like gold

A cask-strength juggernaut, billowing smoke and fully loaded with full-bodied flavour...

Named after the bawling blues classic by the utterly unique Howlin' Wolf, this full bodied and gutsy cask strength number bellows charcoal smoke and electrifying flavour.

Another mystery distillery, heavily peated and from the "Highland" region, Speyside is often called a "sub-region" of Highland and Uncharted can only reveal that this billowing smoky libation is a Speysider.

Check out their social media accounts and you'll see a lovely photo of Uncharted founders, Dana & Jack, standing in front of Benriach distillery with their Smokestack Lightning bottle... probably unrelated though.

Distillery: Undisclosed Peated Speysider

Age: 13

Region: Highland/Speyside
Maturation: Ex-Bourbon

ABV: 53.4%

Bottled: Natural colour and without chill filtration

Bottle Size: 700 ml